Seven Steps to Create a Smart SaaS Marketing Plan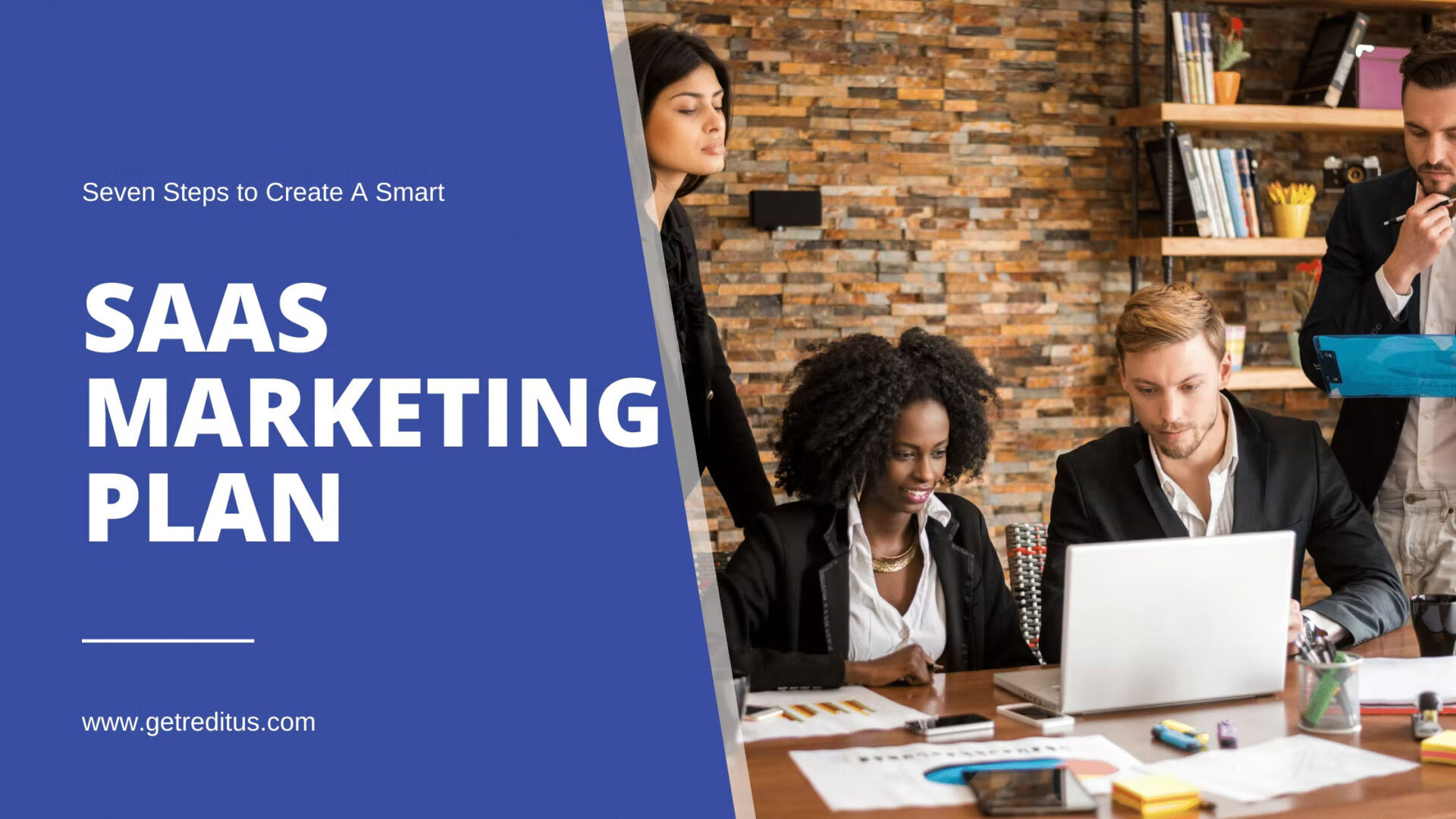 If you are familiar with software development, you already know the SaaS industry is growing at an insane rate.
Over 21,000 SaaS companies are competing in the market. The projected growth will continue to expand by the end of 2022, reaching $157 billion. The inflated number of SaaS companies will continue to rise. Thus, it would be best to track detailed growth scenarios to surpass your competitors.
HubSpot is one brand we can learn from to become better SaaS marketers. Hubspot ranks for over 34,000 keywords on its knowledge base, HubSpot Academy. Thus, HubSpot has nailed the SaaS marketing game in more ways than one.
Following HubSpot's authority is an excellent method to organize your SaaS product marketing plan. You will need a step-by-step process to get started to do so effectively.
This article will discuss seven steps for creating a solid marketing strategy for your SaaS product. By following our process and using KPI tools, you will generate more revenue and outdo your competitors.
1. Identify your marketing goals and KPIs
Solid marketing is produced to convince prospects to sign up for your offerings. These offerings could be observed as a demo, free trial, or a paid version of your product. You will need a set of measurable marketing goals to measure success. It would help if you had transparent metrics to follow your progress by identifying realistic and defined goals.
Some of the most standard SaaS marketing metrics are:
Lead generation
Customer retention
Conversion rates
Google Search ranking
Upgrading services offered to the customers
The first step is summarizing your specific product goals. Then you can define your key performance indicators (KPIs) to track metrics for success.
We recommend using the SMART goals framework (Specific, Measurable, Achievable, Realistic, and Time-Bound). Here you can focus on what activities are critical to getting results. A SMART goal would be, "Acquire 1,000 new US Market users over the next three months."
When it is time to manage your strategy, you will need to plan into time frames that are easier to digest is excellent to get momentum. Doing so will ensure you identify essential daily and weekly tasks.
Let's work an example to illustrate the SMART goal we set above:
If you want to earn 1,000 new users in the US independently this quarter, you must reach X unique users each month. Your monthly mark should be a minimum of 333 new US clients. To stay on task, you can develop weekly or daily targets.
It can be challenging to understand what KPIs you should track for SaaS growth. SaaS marketing KPIs commonly used are:
Registrations for free trials
Revenue and leads
Requests for a demo
Customer acquisition costs
Lead conversion rate
Identify your marketing goals and KPIs. Get a profound understanding of MRR, churn, LTV, and more to boost your business.

Recommended; Why You Should Setup a Partner Program For Your SaaS
2. Study your competition
Let's discuss how to build a strong marketing plan.
Assembling a marketing strategy begins with learning from your competitors. If you are unknown to the market, there is no more advanced method to grow than to witness what your competition is accomplishing and how your perfect clients react.
Numerous elements come into play when assembling a competitor investigation report. Some critical indicators to view are:
Ad campaigns
Social media activity
Organic rankings
Number of backlinks
This analysis will give you a reasonable view of what your competitor is accomplishing. Utilizing a template will help you prepare your analysis report. More research will expose gaps needed to address your SaaS product marketing plan.
3. Define Personas of your Perfect Client
There are no one-size-fits-all customers for a SaaS product. A pool of clients you can target when marketing your product will always exist.
Here is an example to help us understand:
When Spotify came to the scene, their first intuition was to market to everyone since music holds a universal lure. However, they designed a more nuanced strategy to pinpoint their buyer personas—a semi-fictional indication of their perfect customer.
Spotify's long-drawn methodology of crafting buyer personas looked into:
People's need to hear music
People's perspectives towards music consumption
The context of hearing music
The brand utilized these elements to draw out its perfect customer.
Spotify's example illustrates the most crucial component in producing your buyer personas is mapping out their attributes. Similarly, you can tailor unique characteristics to your company. Write down how your buyers behave and assemble additional profiles founded on these points.

Recommended; Full guide on Setting Up A SaaS Affiliate Program
4. Build an SEO Strategy
Most SaaS marketing funnels mainly produce various levels of awareness. Building attention and developing interest for a SaaS product caters to a more acquainted audience of business proprietors.
While content like whitepapers is an option to accomplish this goal, SEO delivers a stable key for organic development.
Making a plan of action for your SaaS product through SEO will involve:
Build landing pages: Bring traffic to optimized landing pages and gather leads for your product.
Website optimization: Audit your website for technical SEO scores and enhance the factors scoring low.
Define keywords: Target the right keywords to reach your audience.
Create backlinks: A higher search engine rank is closely related to the number of backlinks you earn through value-packed content.
Develop unique content: Long-form, engaging content that hooks readers and caters to the search intent is essential for SEO success.
Assembling SEO content is vital before you transition into the dispersal stage. Unless you produce evergreen content optimized for the search engine, it will be challenging for your distribution plan to acquire the preferred outcomes.
5. Create and Distribute Content Effectively
A detailed SEO action plan and desired set of keywords will help you with lead generation. Optimizing your action plan needs a distribution strategy as you start planning your unique content creation.
Here is some example of what it could include:
Paid channels: pay-per-click ads and sponsored content
Media channels: newsletters, blogs, downloadable assets like eBooks, and social media channels
Earned channels: press releases, QA forums, guest blogging, and podcasts
SaaS marketing is the core element of content marketing. Compelling content will create credibility and generate interest in your product, boosting sales.
Marketing your buyer personas, you must have created content for the multiple stages of the conversion funnel:
First stage: When a user first sees your website and navigates through some pages, they entered your funnel.
Top of the Funnel (TOFU): When visitors begin reading your blog posts or observing videos, they are engaged with your content.
Middle of the Funnel (MOFU): When leads desire more knowledge about your brand, they expend more time reading long-form content and downloading resources.
Bottom of the funnel: The lead has advanced near to conversion at the bottom. They may request a demo or want to speak with the team to carry things further.
Once you have produced content for each step of the funnel, arrange it so your perfect buyers can discover it on your website. The project management tool, Asana accomplishes this flawlessly:
Their comprehensive homepage supplies thorough insight into the software and how it can benefit users.
The "Why Asana" section merged with the "Solutions" area presents more details for guests to plunge deeper.
The Asana Guide is a fantastic aid for those in the middle of the funnel.
A built-in demo video functions well for the final stage of the funnel, supplying a nudge towards conversion.
Related Reading; Why You Should Care About SaaS Affiliate Marketing
6. Strategize Email Marketing Campaigns
One of the best channels to maximize your SaaS product marketing results is through email.
Email is the most helpful way to communicate with your clients. Potential and existing clients can hear about announced updates and send discount offers to segment your audiences and onboard new clients.
Utilize email campaigns for knowledge sharing and consumer engagement to improve your brand vision and boost leads.
Canva offers an excellent model of employing emails to promote brand relations.
Utilize some of these metrics to gauge the victory of your email marketing campaigns:
Delivery and open rates: to inspect if you're reaching your audience's inbox without fail, and they're opening your emails.
Click through rates: to notice whether your subscribers act upon the CTA.
Signup rates: assess whether your emails and landing pages are working well.
Subscriber retention rate: measure the customer response to your campaigns.
7. Monitor performance to make improvements
The final yet equally essential step of building a SaaS product marketing plan is observing performance.
You can make a reporting system to preserve all your KPIs to execute this vital step. Analytics software can come in handy in the approach.
A business analytics monitoring tool can help teams understand and act on their financial data better. By integrating these tools with payment processors apis like Stripe and Shopify. As a result, you can see 26+ key metrics, including MRR, ARR, and LTV, in real-time via intelligent dashboards.
Maintaining a pulse on your monetary metrics will let you see how customers brought in through marketing actions contribute to your earnings and advise how you can repeat and enhance your marketing approach.
Sign up for Reditus and manage your marketing KPIs with data-driven confidence.
The Bottom Line
Marketing a SaaS product differs significantly from traditional marketing campaigns. The distinction lies in the target audience, content creation, and marketing channels.
With the appropriate wisdom of SaaS product marketing strategy and the proper analytics tools, you can quickly assemble your plan of action. Begin with describing everything about your product with buyer personas, their pain points, and your marketing objectives. Then ascertain how the market operates and discover what your competition is accomplishing.
Use this wisdom to ideate your plan and concentrate on acquiring the audience organically via content. Upgrade your SEO competition and leverage the capability of email to improve your brand distinction.
Do not fail to track your advancement and keep repeating to obtain the optimum outcomes.