How to Successfully Copywrite for SaaS Brands?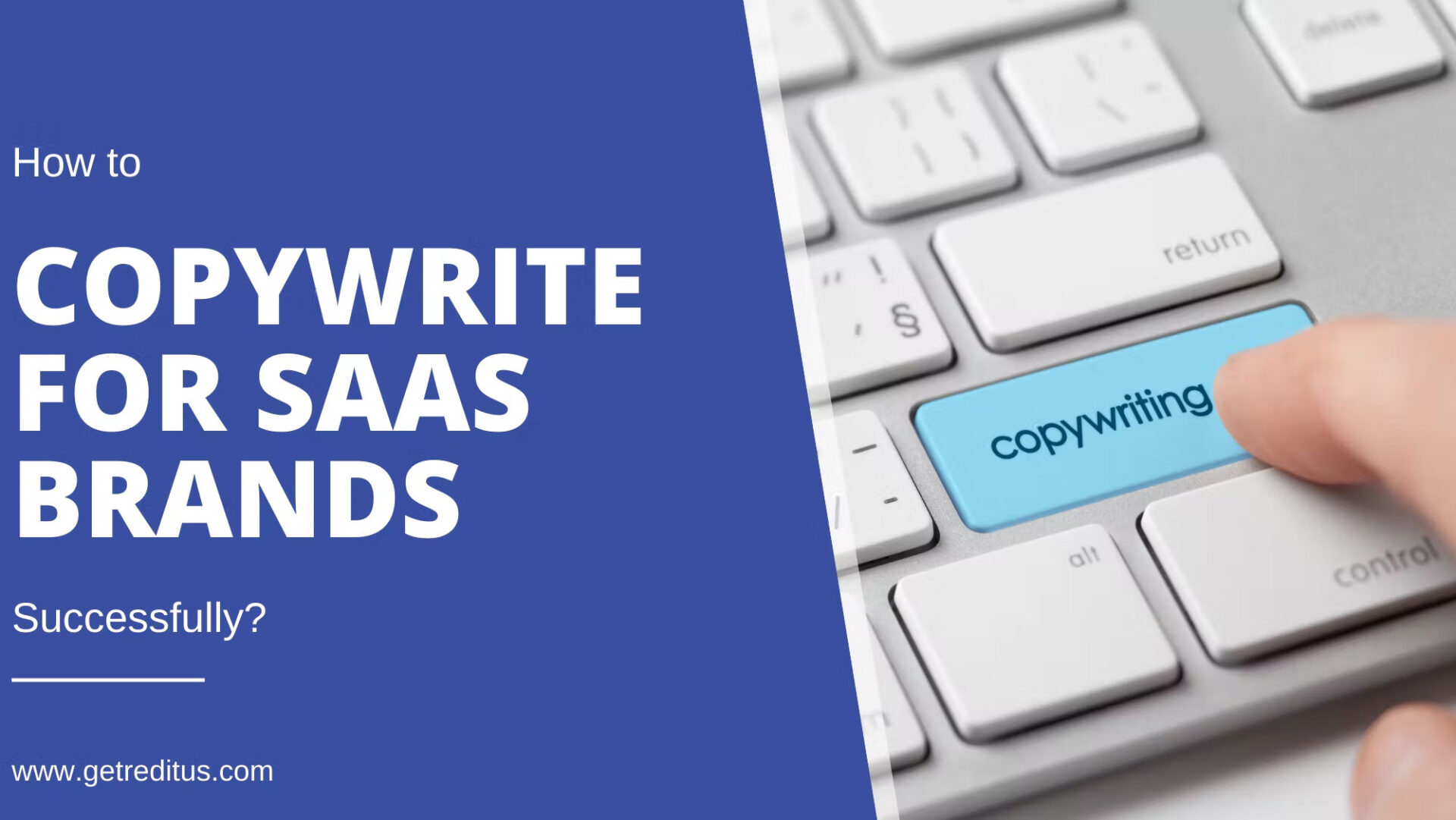 Freelance authors could make significant money copywriting for the SaaS industry. The software as a service industry is worth about $157 billion, according to Statista.
The trend is increasingly significant to track, for freelance writers, as more writing prospects spread in the SaaS niche. However, freelance writing for SaaS firms harbors specific conditions and challenges.
Website copywriting is the art of creating content for websites. Excellent web copy motivates people to take action. However, poor copywriting can have a severe impact on your conversion rates.
Correctly writing composition is an essential aspect of writing. No matter how creative or clever your ideas may be, it is vital to write copy correctly.
What is SaaS Copywriting?
SaaS, or Software as a Service, combines copywriting (writing web and ad or product copy) and blogging. To be a thriving SaaS freelance writer, you should aspire to obtain diverse skillsets, including website copywriting, SEO, ad writing, building sales funnels, and blogging.
Critical SaaS copywriting roles typically include:
Creating in-depth content like case studies.
Building market funnels.
Writing ads for social media and PPC.
Aligning content with a video or social media strategy.
Writing web pages and blogs.
Depending on the SaaS company, you might even function as a specialized copywriter for the product itself.
What Do SaaS Freelancers Do for the SaaS Industry?
Freelance writers function in various positions across many industries. Your role and responsibilities in the SaaS industry will change dramatically as the industry becomes more specialized.
A travel blog writer will have a significantly different writing style than a technical writer or a SaaS copywriter.
However, you will typically:
Communicate with clients and sources.
Research content.
Manage projects.
Write and edit content.
Pitch new topics and content.
Research your audience and topics.
Write marketing material.
Align with a marketing or sales team.
Depending on your clients, top-down management may direct your role. If this approach does not work, you may need to accept responsibility and provide a rough idea of what the client wants. Therefore you can achieve your client's overall satisfaction by shaping compelling content.
What Skills Should a Freelance Writer Possess?
There are many types of freelance writers. You might need various skills depending on how and why you choose to write. However, there are some critical abilities every good writer should master.
For SaaS freelance writing, it is vital to possess these skills at a bare minimum:
Research
As new topics and angles emerge in the SaaS industry, you should continuously research different viewpoints. As you explore, you will find unique options, strategies, and other pertinent information for your articles.
It is necessary to develop basic research to establish reliable sources. These resources are links you can reference in your articles. More complex topics will require you to provide a thorough discussion to understand the subject. You must give outside sources if the website does not have reference material.
As a writer, your capability to explore topics fast, make notations, and write accurately about unexplored concepts will be critical to your success.
SEO
Much of the modern world's data is digitized. Therefore, your writing will probably end up online in one form or another. Understanding how to determine high-rank keywords and phrases will increase the likelihood your content is seen.
Crafting easily discoverable content by search engines will help you become a valuable asset to your clients.
The most important aspect of SEO is to learn how backlinks, bounce rate, blog structure, page authority, and other factors contribute to search superiority. Therefore, SEO mastery will help you create content for your target audience and deliver leads.
Organized and Clear Communication
Many SaaS freelancers provide more than just content creation. You will likely have to speak with customers, manage colleagues, request edits, set up interviews, and send regular updates.
Many freelance writing jobs require you to contact other sites for guest blogs and co-marketing opportunities.
Keeping these communications clear and organized will ensure nothing slips through the cracks.
Project Management
As a freelance author, you are responsible for ensuring all work is researched, edited, submitted, and published by your deadlines.
You'll have to manage multiple moving pieces to run a large content operation. The most rewarding results come from intricate assignments with unusual timelines, restrictions, and bottlenecks.
Sound project management talents will help you execute projects well, even while juggling numerous obligations.
Tip: Utilize project management tools like Trello or Asana. These are the best tools to track your deadlines and content creation stages.
Writing and Editing
In order to be a great freelance writer, you need to be a great writer and editor. Therefore you might need to go back to the basics. Every client will have their idea of what they believe is "great" writing. Different tones and styles mean there can be a subjective opinion on how your client needs articles crafted.
You should understand how to structure your writing, so it is easy to skim, optimize for search engines, and summarize. It is essential to streamline complex concepts. As an editor, you must be able to detect any spelling or grammar mistakes and ensure clarity, cogency, and accuracy.
Some helpful tools that can help improve your editing include:
How Do I Promote My SaaS Writings?
There are many creative options in order to promote your business as a writer. You can include mailing out professionally designed invitations to work together in the SaaS industry. You can develop a website to pitch yourself. Then you can leverage your website to advertise to SaaS businesses hiring teams directly.
While these ideas might be confusing, these are some of the most common ways to gain clientele:
Guest blog – Guest blogging is one of the most straightforward methods to get applied to the SaaScommunity.
Build a portfolio – Align your portfolio to the specializations in the SaaS industry and specific niches. Therefore, this is generally a website but can also be a freelancer profile on a site like Upwork or Fiverr.
Establish an online presence – Select a few online locations to establish your business. The key is to deliver value to diverse communities. You can answer questions on Quora to post helpful content in Slack groups. You should also update your online profiles, such as on Twitter and LinkedIn.
Tip: Set up a Google alert for SaaS websites and keywords in your niche.
Do Freelance Writers Need a Website?
Technically you do not need a website. However, how much do you want to land clients? A website serves as your branded online presence. Therefore a website allows you to showcase your portfolio, writing skills, and client testimonials.
A website will also help provide you with some authority in the SaaS industry.
Your website will facilitate new client discovery as you optimize SEO and land referrals. You can add a payment portal to produce a streamlined approach for SaaS clients to reserve your precious time.
Freelance writers find their websites valuable because :
Showcase your previous work and services.
Utilize SEO to drive traffic and generate new leads
Provide a method to communicate.
Establish creditability and authority.
However, if you are not prepared for a website, you can also establish an online presence on social media or job boards.
How Much Should you Charge for Each Article?
Pricing is tricky, and I can tell you it's different for everyone. Writers contributing to Forbes can charge a much higher premium than freelancers just starting.
Even if your writing quality is more or less equivalent, pricing will depend on how valuable your content is for your clients. Factors determining your pricing include your portfolio, past clients, quality, experience, and demand.
Three standard methods writers charge for their articles are per word, hourly, and set rate per article.
Rate per word
Price per word is not the shrewdest method to charge clients because a high-quality writer should get their message across concisely with as few words as possible.
Hourly Rate
PayScale.com says the average hourly rate for a freelance writer is between $25 to $30. The scope can range from minimum wage to over $100 per hour, depending on experience, skills, and services offered.
Set Rates Per Article
Some creator sites charge pennies for a 500-word article, but remember, you get what you pay for with these sites. Then, some writers can command thousands of dollars for a 1,000-word piece. Companies who know they will earn a profit on these articles won't bat an eye because they know quality content generates sales.
Tip: Find trustworthy clients, and eventually, the money will follow. Ultimately working in the SaaS field should be your passion.
If you need help locating customers, begin by checking job boards. Examine the companies in the SaaS domain and offer your experience.
For instance, you can command high rates if you have no portfolio but have earned a Ph.D. in an appropriate subject. On the other hand, if you do not have SaaS mastery or background, you should begin with initial rates and raise prices as you earn experience with clients.
What is a good measuring stick to guage your content's worth? The best way to start is to budget how much you need to live comfortably. The first month will be the most difficult to gauge, but once you get going, you can adjust the prices to help you live the lifestyle you wish to live.
How to Succeed as SaaS Freelance Writer?
Success for a freelance writer can indicate many specialties. It can be achieving a comfortable living wage with a four-hour work week or earning six figures. However, it begins putting in some hard work.
Creating a portfolio on SaaS affiliate marketing sites can be the most challenging thing to do. However, developing your credentials on affiliate marketing platforms is a great way to improve your brand.
Here are some suggestions to assist you on your journey:
Continually enhance your content marketing mastery. All the best authors frequently learn and acclimate to stay relevant.
Concentrate on long-term clients. Performing with a brand long-term indicates you will spend less time learning about a new product. You will also perfect the content messaging as you continue to write articles. It also creates a more stable income.
Sharpen your networking skills to build your own SaaS community. The more authority you gain in the SaaS industry the better you will be financially.
Update your portfolio frequently, and priortize your primary social media sites like LinkedIn.
Utilize customized portfolios to appeal to various clients. Consider arranging a folder with specific pitches for every new customer instead of employing a comprehensive portfolio for pitches.
Establish a network of ghostwriters if you don't have time to take on a new client or need help scaling up.
The Bottom Line
Creating a career as a freelance SaaS author endures time and effort. Consistent work is necessary if starting from scratch in a relatively strong position. Previous experience as a professional writer in an organization will help to switch to the demanding, time-consuming world of the freelancing world.
Specializing in SaaS writing demands particularly more outreach.
However, with a robust portfolio, constant high-grade content, and continuous learning, you can construct a comfortable and stable career as a freelance writer.
The great news is here at Reditus; we have a platform to help you network with other SaaS businesses. Therefore you can start earning money now by promoting SaaS affiliates today.