Top 10 Affiliate Management SaaS Tools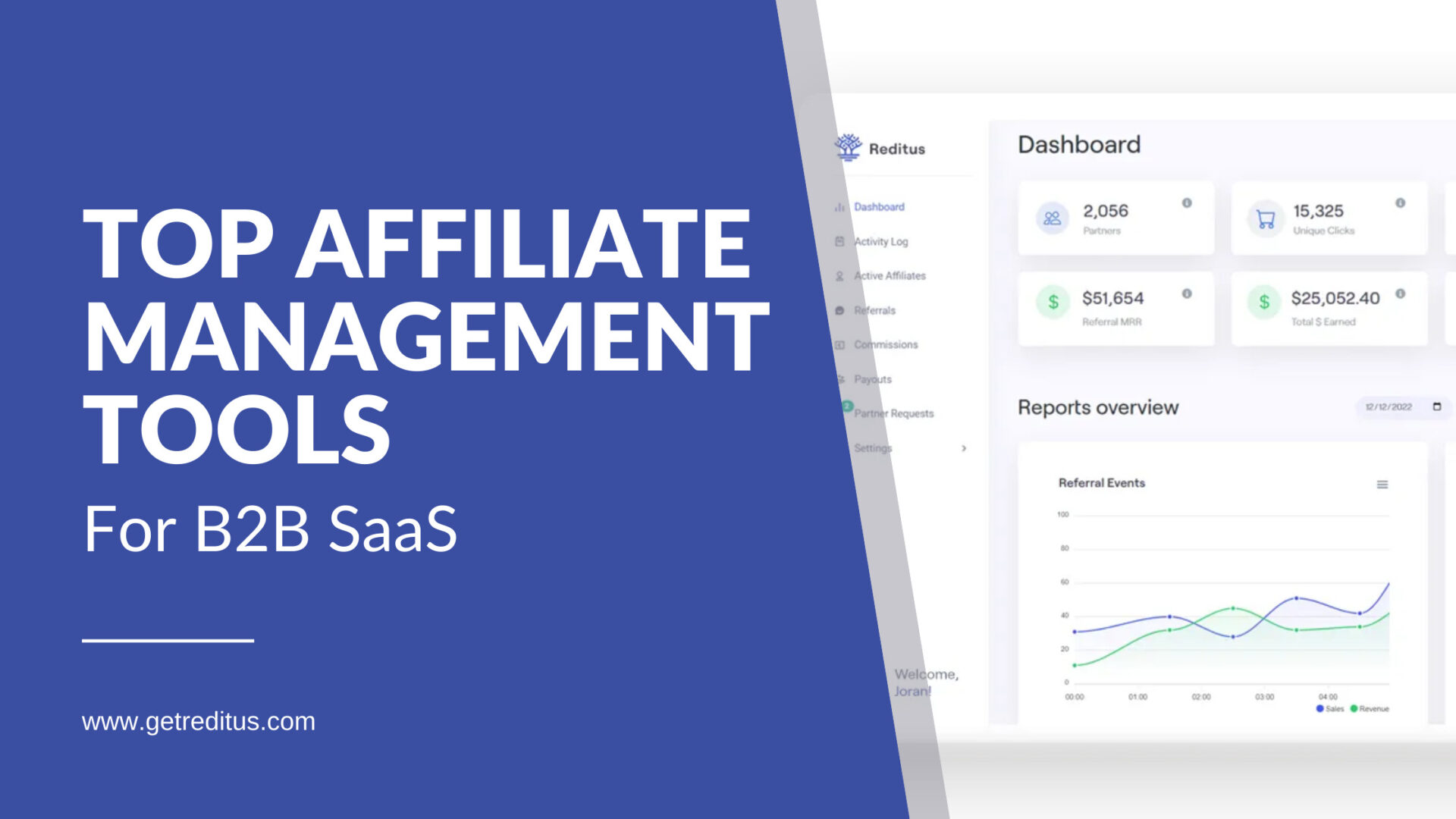 If you're looking to expand your company's reach and boost your exposure, you've undoubtedly encountered affiliate marketing. Affiliate marketing is a popular way for businesses to increase their reach and sales.
When your company invests in affiliate marketing, it's easy to become overwhelmed with the sheer amount of data and relationships that come along with an extensive program. The good news is that several SaaS tools are available today that can make managing your affiliate program easier, more organized, and less stressful.
Effective businesses turn to SaaS affiliate management applications designed specifically for the task. No more using a never-ending Excel spreadsheet to track everything. In this article, we'll explore the top 10 affiliate management SaaS tools and how to choose the right one for your business.
What are Affiliate Management SaaS Tools?
What Affiliate Marketing Is?
Affiliate marketing is a performance-based marketing strategy where businesses reward affiliates for every customer brought by their marketing efforts. Affiliates promote products or services and earn a commission for each sale made through their unique referral link.
Typically, there are four key players: the merchant (product creator or seller), the network (a platform that connects merchants and affiliates), the affiliate (the individual or company promoting the product), and the customer (the end consumer). The process begins when the merchant provides the affiliate with a unique referral link, which the affiliate then uses to promote the product or service.
When you pair an effective affiliate marketing strategy with a strong product offering, you will have created a strong SaaS renewal playbook. This playbook is going to deliver on SaaS renewal metrics that keep everyone happy and deliver not only gross renewal rate increases but also net renewal rates that you can take to the bank.
What are Affiliate Management SaaS Tools?
Organizations, especially larger ones that utilize the power of affiliate marketing, have to manage many moving parts. There are different pay ranges for different affiliate campaigns, countless unique affiliate links to track, and more. Keeping track of all of that information can be time-consuming.
That's where affiliate management applications come into play.
Affiliate management SaaS (Software as a Service) tools are cloud-based platforms that help businesses manage and track their affiliate programs. These tools provide a centralized platform to monitor affiliate performance, manage commissions, generate reports, and handle various aspects of an affiliate program.
Why Use an Affiliate Management SaaS Tool?
Managing an affiliate program can be time-consuming and complex. Tracking conversions, calculating commissions, and communicating with affiliates are tasks that need to be handled efficiently. SaaS affiliate management tools streamline these processes, automate repetitive tasks, and provide valuable insights into the affiliate program's performance. A small investment in the right tool can deliver incredible results with what your business really seeks: renewal subscriptions.
Benefits of Affiliate Management SaaS Tools
Easy tracking and monitoring of affiliate performance
Automation of commission payouts
Detailed reporting and analytics
Seamless integration with other marketing tools
Enhanced communication between the business and affiliates
Top 10 Affiliate Management SaaS Tools
Reditus is the B2B SaaS affiliate marketplace and affiliate management platform. They've received awards from G2 and Capterra, and more for their easy-to-use interface and clear pricing structure.
Reditus is built specifically for B2B SaaS and tailors their programs specifically to target affiliates that will improve your ROI and MRR. That means there's far less chance of wasting marketing dollars.
They are also pretty proud of the fact that you can have your affiliate marketing programmed up and running in under 30 minutes.
Key Features
Built specifically for B2B SaaS
Comprehensive dashboard
Multi-currency support
Custom commission structures
Live support for a quick ROI
Pricing
Free so you can build a program and start inviting affiliates. You don't pay until you hit $1k MRR. Then, plans start at $39 per month and are based on performance and revenue brought in through your affiliate program.
Partnerize focuses on finding, recruiting, and activating content creators and influencers. Their platform is designed for any vertical, focussing on clothing brands, physical products, and more. It's supposed to be more of a one-size-fits-all than a laser-focused affiliate marketing and management app.
It can also take up to 15 days to get your program out there, which is slow compared to their competition.
Key Features
Customizable partner management
Global payment capabilities
Mobile app tracking
Pricing
Custom pricing based on business requirements
Post Affiliate Pro helps manage your commissions, affiliates, and promotional materials in one place. They help run your entire affiliate business, top to bottom.
Key Features
Customizable interface
Multiple tracking methods
Payout options
Direct linking
Pricing
LeadDyno stands as a frontrunner in the realm of affiliate tracking technology and management of affiliate programs, boasting over 309 million referrals tracked since its inception in 2014. They have a wide focus, marketing themselves as capable of handling any vertical.
Key Features
One-click integration
Simple affiliate import
Email marketing integration
Affiliate dashboard
Pricing
OSI Affiliate is another broad-reach affiliate management platform. They focus more on social media marketing than some of the others on this list.
Key Features
Referral partner automation
Social media integration
Discount codes and coupons
Multi-tier affiliate tracking
Pricing
Tapfiliate is an affiliate tracking platform focused on eCommerce and SaaS. They have a broad reach of affiliate, influencer, and referral marketing.
Key Features
Affiliate moderation
Quick affiliate onboarding
Flexible commission options
Pricing
Key Features
Low entry-barrier
Affiliate segmentation
Customizable commission rules
Good for all operation sizes
Pricing
One-time setup fee of $625 and then processing fees of at least $35/month after that
Focuses on retail and eCommerce.
Key Features
It claims to be the simplest to use
API Access
Multiple attribution models
Pricing
Custom pricing based on business requirements
ClickBank focuses largely on eCommerce.
Key Features
Transparent product marketplace
Hosted order form
Exclusive industry events
In-depth reporting
Pricing
7.5% of each product sold through them plus $1.
Affise is an all-in-one marketing platform.
Key Features
Real-time data
Smart targeting
Customizable interface
API support
Pricing
How to Choose the Right Affiliate Management SaaS Tool
Consider Your Needs
Evaluate your current needs and growth plans to determine the features you require in an affiliate management tool.
Look at Core Features
As you compare pricing plans, take note of the core features each tool offers. While some platforms may have a lower price tag, they might lack essential functionalities for your business. Ensure the tool you choose provides the necessary features without compromising affordability.
Ensure the tool offers essential features like real-time tracking, customizable commission structures, and seamless integration with other marketing tools. If a Saas affiliate management app focuses on the verticals you deal in, it would be worth putting that one at the front of the stack.
Assess Scalability
Your affiliate program will likely grow over time, so it's important to select a tool with a pricing structure that can accommodate this growth. Look for flexible plans that allow you to scale up or down as needed, ensuring you only pay for the features you use.
Check Pricing
1. Determine Your Budget:
Before diving into the vast pool of affiliate management tools, establish a clear budget for your business. Knowing how much you're willing to spend will help you narrow down your options and prevent you from overspending on features that may not be necessary for your specific needs.
2. Understand Different Pricing Structures:
Affiliate management tools come in various pricing structures, including monthly subscriptions, annual plans, one-time fees, and commission-based charges. Familiarize yourself with these models to identify which aligns best with your financial goals and preferences.
Calculate the Total Cost of Ownership (TCO):
When comparing pricing, don't just focus on the initial cost. Consider any additional expenses such as setup fees, add-ons, customer support, or potential transaction charges. These factors can significantly impact the TCO, so account for them in your decision-making process.
Look for Discounts and Promotions:
Many affiliate management tools offer discounts for longer subscription terms or promotional deals for new customers. Keep an eye out for these opportunities to save money without sacrificing quality.
Test Drive with a Free Trial or Demo:
Before committing to a specific tool, take advantage of free trials or demos. This will allow you to test the platform's features and usability, ensuring it fits your business correctly before making a financial investment.
Read Reviews and Ratings
In your quest to find the perfect SaaS affiliate management tool, customer reviews and ratings can provide invaluable insights into each platform's performance, reliability, and overall user experience. By analyzing feedback from real users, you can make a more informed decision and increase the likelihood of choosing a tool that meets your specific needs. Here's a step-by-step guide on how to effectively utilize reviews and ratings in your evaluation process:
1. Identify Trusted Review Sources:
Start by identifying reputable websites and platforms that specialize in providing unbiased, comprehensive reviews of affiliate management tools. These may include industry blogs, software comparison websites, or dedicated review platforms such as G2 Crowd, Capterra, and Trustpilot. Focusing on trusted sources helps ensure that you're getting accurate and reliable information.
2. Analyze Overall Ratings:
Pay attention to the overall ratings of each tool, as these can give you a general idea of their performance and user satisfaction. Look for platforms with consistently high ratings, but also be cautious of those with only a few reviews, as this may not provide a complete picture of their true performance.
3. Read In-Depth Reviews:
While overall ratings are helpful, digging deeper by reading individual reviews is essential. Doing so will help you uncover specific strengths and weaknesses of each tool, as well as gain insight into how they perform in real-world scenarios. Look for reviews that address aspects that are particularly important to your business, such as ease of use, customer support, and integration capabilities.
4. Take Note of Common Themes:
As you read through reviews, look for recurring themes and patterns. If multiple users mention a specific issue or praise a certain feature, these aspects are likely consistent across the platform. By identifying common themes, you can better understand what to expect from each tool.
5. Consider the Source:
Keep in mind that not all reviews are equal. Consider the credibility of each reviewer by looking at their experience, industry knowledge, and potential biases. Reviews from experienced affiliate marketers or industry experts may carry more weight than those from casual users or first-time reviewers.
6. Weigh Pros and Cons:
Every affiliate management tool will have its pros and cons. As you read through reviews, make a list of the advantages and disadvantages of each platform. This will help you weigh the trade-offs and determine which tool is the best fit for your specific needs.
7. Reach Out to Users:
If you have questions or concerns not addressed in the reviews, consider contacting users directly. Many review platforms allow you to contact reviewers to gain additional insights and ask specific questions about their experiences.
Discover the Power of Reditus: The Ultimate Choice for Affiliate Management
IAs a leading SaaS affiliate management and affiliate marketplace tool, Reditus is specifically designed to help you streamline your affiliate marketing efforts and maximize your profits. Here's why you should choose Reditus over other affiliate management platforms:
1. Comprehensive Dashboard:
Reditus offers an intuitive and user-friendly dashboard that provides all the information you need at a glance. Everything is just a few clicks away, from tracking your affiliates' performance to managing payouts and monitoring your overall progress. The dashboard is also customizable, allowing you to tailor it according to your unique business needs.
2. Multi-Currency Support:
Expand your business globally with Reditus' multi-currency support feature. It allows you to seamlessly manage and process transactions in various currencies, making it easier than ever to tap into international markets and reach a wider audience.
3. Custom Commission Structures:
Not all affiliates are created equal, and neither should their commission structures. With Reditus, you can easily create custom commission plans for different affiliates based on their performance, traffic sources, or any other criteria that makes sense for your business. This flexibility ensures that you can incentivize your top-performing affiliates while still offering competitive rates to newcomers.
4. Fraud Detection Capabilities:
Protect your business from fraudulent activities with Reditus' advanced fraud detection features. The platform continuously monitors for suspicious activity and automatically flags any potential issues, ensuring that you can maintain the integrity of your affiliate program and safeguard your revenues.
5. Affordability:
At a starting price of just $39 per month, Reditus offers an unbeatable balance between affordability and essential features. This cost-effective solution allows businesses of all sizes to benefit from a powerful affiliate management tool without breaking the bank.
6. Exceptional Customer Support:
When you choose Reditus, you're not just getting an outstanding affiliate management platform; you're also gaining access to a dedicated team of experts who are committed to helping you succeed. With round-the-clock customer support, you can rest assured that any questions or concerns will be addressed promptly and efficiently.
7. Scalability:
As your business grows, so does Reditus. The platform is designed to accommodate businesses of all sizes, making it easy to scale up your affiliate program as needed. This ensures that you always have the right tools and features, no matter how big or small your operation becomes.
Conclusion
Choosing the right affiliate management app is crucial for the success of your affiliate program. When selecting the best tool, consider your business needs, key features, pricing, and user reviews. Reditus is a top contender with its robust features and affordable pricing, making it an excellent choice for businesses looking to manage their affiliate programs effectively.