Top 10 Reasons for Hiring a SaaS Marketing Company in 2023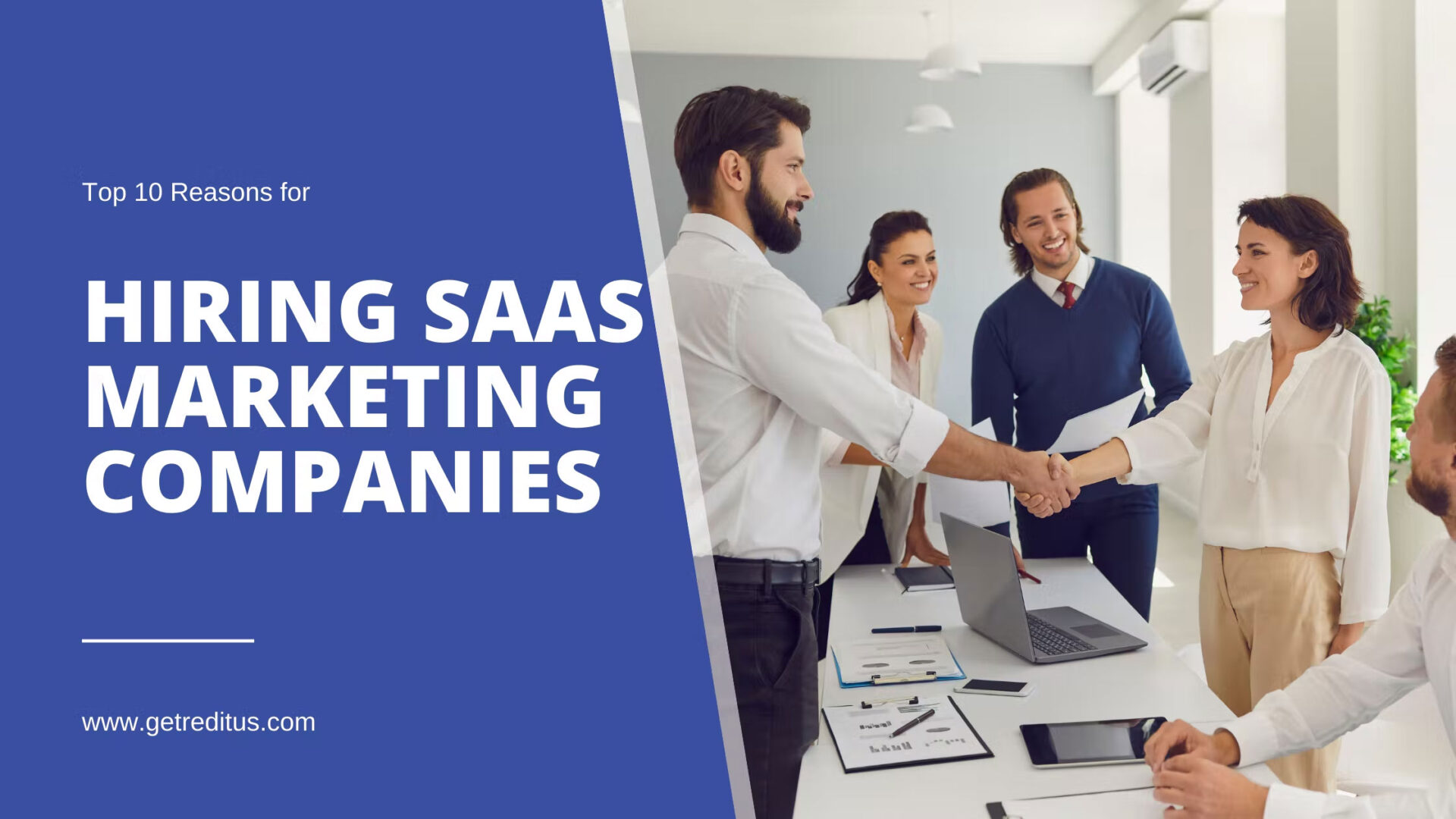 When you hear the phrase "SaaS marketing," you might believe you can accomplish your goals by hiring just any SaaS digital marketing agency. Do not make that blunder. Successful SaaS marketing is in a world of its own and requires the right skills.
Suppose you're launching a SaaS platform or looking to revamp the marketing efforts of your existing software. In that case, you're going to need to enlist the expertise of an experienced SaaS marketing agency.
What does a B2B marketing agency do?
B2B marketing refers to any method focused upon adding worth to a company in the marketplace. An institution that markets those marketing strategies and content to companies and companies is typically known as a B2B marketing agency.
So why should you hire a top SaaS Marketing company? You very well could do your marketing campaign here on Reditus. Here we will discuss the top 10 reasons we believe collaborating with another outside source could help your experience here. We will also discuss the advantages and disadvantages.
Related Reading; Top 27 SaaS Marketing Agencies
1. SaaS Marketing Problem Comprehension
The tactical problems most top SaaS companies face all look similar. They have difficulty with Google Adwords, or CPC is way too expensive to maintain. Content strategies can be relatively productive, but they lack the proper reporting. Reporting advanced SEO knowledge is essential for marketing. Across the board, we observed many SaaS companies implement the right tactics, but their strategy lagged in reaching their goals.
This is usually because of how the b2b SaaS company is structured.
It often goes like this. A marketing team within large companies consists of a product marketer, designer, and copywriter. VPS establishes goals for the marketing team and designates tasks. The marketing team then expends its time acting on these tactics. What is lacking is somebody with the expertise to prepare an effective inbound strategy.
Smaller SaaS companies typically have a small team with essential technology and product development knowledge – not marketing.
One of most SaaS companies' most significant mistakes is focusing on short-term goals. Forecasting long-term goals mean you will need to know how to strategize generating and retaining customers long-term.
Top SaaS marketing firms have experience working with SaaS companies. They understand the industry's commonalities between niches and have worked with similar teams and skill sets. One gains this experience, knowledge, and a bird's eye view of the bigger picture by hiring an agency.
2. Scalable SaaS Customer Acquisition
If you learned about customer acquisition the hard way, hiring a B2B SaaS marketing agency is essential. Marketing agencies that do not focus on SaaS may help tailor a B2B SaaS marketing strategy and resources. However, you need one with previous SaaS Marketing experience to execute those objectives. Therefore, without a specialty in SaaS platforms, they will not help you succeed with SaaS customer acquisition, lead generation, and SaaS client engagement.
Cookie-cutter tactics are not proper if you want to do things right. While you may observe success using 'one-size-fits-all' solutions, you will not have a straightforward concept of what works and does not. It would benefit you to develop a strategy to observe where lead generations occur and what engagement tools convert them into clients.
Employing niche SaaS marketing experts to assemble an effective SaaS marketing strategy will maximize your chances of success. The individualized approach based on your unique needs and the type of service you provide will yield better results.
SaaS marketing professionals will observe your growth marketing performance stats KPI and leverage conversion rate optimization to optimize marketing components. Therefore, the help will ensure your strategy remains applicable as your SaaS platform matures.
It is conceivable to generate a strategy for yourself or contract it to a marketing "expert." However, if you are serious about your business's success, it is ideal to let a certified expert help.
3. SaaS Platform Experience
Marketing is invariably risky, and there are no assurances your campaign will succeed. However, one thing necessary for success in every industry is experience.
Entrusting your marketing campaign to certified professionals will maximize your probability of success. Nonetheless, uncover an agency with an appropriate SaaS marketing background and a proven track record of boosting similar product sales.
The better agency's experience within your "niche," the better results you will receive. As a result, when a niche marketing agency professes specific results, you can believe you will receive similar results based on a previous client's success. Their success with clients tells an entirely different story about accelerating the growth of your business than someone without any individualized proof.
Examine case studies, references, and previous customer comments with these marketing agencies. The research will provide a more accurate picture of projected SaaS growth. Gaining a pulse on expectations will help you decide if the marketing agency suits your business type and current needs.
4. SaaS Marketing Trends Experience
The digital world is continually adjusting, and unless you are entirely dedicated to it, it is hard to keep up. Running a SaaS-type business is an excellent opportunity to make some serious money. Still, it is also a considerable investment, especially when supporting your clients and improving the product.
Launching a new SaaS platform is much work and comes with many responsibilities. It makes sense if most of your time and energy is spent ensuring your venue is working correctly and ironing out all the kinks. The main problem is that time is finite, and you will not have much time to plan for the future with a focus on marketing.
Suppose you don't stay ahead of the curve on tested and effective SaaS marketing trends. In that case, your team will not be equipped to plan for future A/B testing. Furthermore, your ability to monitor conversion rate optimization experiments will be, at best, limited.
The same is necessary for digital marketing. It is easy to fall behind with your self-created marketing strategies. Not only are you researching these new strategies, but you will also need to update existing content and relevant content consistently.
The B2B SaaS agency growth marketing world consists of many different subcategories. As a result, it is nearly impossible to produce everything in-house. Therefore, attempting to do everything independently will add additional strain to your SaaS marketing strategy.
Instead, hiring experts can produce cost savings compared to employing a single employee. Contracting a SaaS Marketing agency can free your time to focus on developing your products and services to stay ahead of your competitors.
Chartering a SaaS marketing team of professionals primarily to boost your lead generation, customer acquisition, and client engagement will provide a strong strategy. Keeping the tasks of your plan current and relevant by them is an added benefit. Your concern will be lifted as your SaaS digital marketing agency takes care of this responsibility.
Recommended; Why You Should Set Up A Partner Program As A Saas

5. Unique Customer Experience
Shoppers can become complacent when they feel ignored by SaaS websites with a subscription model. Therefore, it is vital to increase engagement to perfect your customer sales experience.
After all, you compete on an international, digital scale, and if you do not improve your products, someone else will. As your business develops, increased customer support tickets and emails will occur.
Ultimately, your business goals are attracting new customers and keeping the existing ones long-term. Accomplishing this goal means you need to update your SaaS services. Increased competition on the market suggests you provide more value to your customers. If you do not offer more bang for their buck, you risk losing them to the competition.
Hiring a SaaS marketing agency will help alleviate some of this stress. Therefore you can continue to focus on the potential to increase revenues.
6. Save Time and Money
Employing an in-office marketing group will deplete a significant amount of money. It will also absorb a substantial amount of time to scout the right people. The same goes for contracting with freelancers who make outlandish pledges while delivering next to nothing. Your most promising alternative is an agile SaaS marketing business.
Marketing agencies will seldom bombard you with excessive questions and requests. Thus they will not drain your time. They provide step-by-step strategies applied several times with their other clients. They will organize the required details and begin operating, providing you briefs to double-check the improvements of the campaign.
The guidance will provide you with peace of mind. Knowing you left your marketing to experienced professionals will give you confidence in your marketing plan. Therefore, you can focus on your product's needs entirely. As a result, you also will ensure customers get the best value for their money. Ultimately this is all that matters to acquiring new customers and keeping them happy. Thus you are minimizing SaaS customer churn over time.
You will need to invest substantial money to build an in-house marketing team. Evaluate the expense of training, onboarding, and hiring employees. Then calculate the salary benefits and purchase the appropriate programs and software to set your team up for success. The expenses add up quickly without incorporating employee churn.
Using a B2B SaaS marketing agency provides you with a team of experts that can start immediately. You will have no onboarding or training needed. They also will already maintain the software essential to perform effectively and efficiently.
7. Brand Messaging and Positioning
It is essential to establish your business value proposition. Sometimes businesses forget to define the specific value they are providing their customers. Similar to how you do not want to have a generic logo, you also do not want to have unpleasant-looking landing pages, even social media posts, or email newsletters.
The landing pages created are frequently the first meeting a customer has with your company. Not only that, a flawed landing page will not lead to a closed sale. Therefore it could also create more damage than good. The reader might get the wrong picture if your message is vague, inconsistent, or unsightly. Thus you developed distrust towards your brand.
It is critical to yield engagement in every marketing activity you assemble. Measure effectiveness from your SaaS growth hacking strategies and witness what course corrections might be necessary. The SaaS marketing agency your charter must be cognizant of your brand values. Therefore, they can properly convey your brand voice in all content elements you deploy.
Some SaaS platforms take a lifeless, dry approach to be more professional than necessary. On the other flank of the pendulum, you have those "hey dude!" companies who try to force the "casual," which never looks good.
How to distinguish your brand voice? It is entirely a process of trial and error. The beginning starts with your company's background and the services you provide. Then you look at the buyer personas you want to target. As stated numerous times, there is no one size fits all approach.
If cookie-cutter approaches were successful, the automation of strategies would be much simpler.
Again, your most promising strategy is to employ a certified and experienced SaaS digital marketing agency. Therefore they will develop a customized growth marketing solution for you with your perfect clients in mind. Every other strategy is rarely the best, as it infrequently leads to measurable and trackable results.
8. Inbound Marketing Methodology
Inbound marketing is a vital pillar of content marketing programs. When deciding upon the right SaaS consultant, they must not use outdated marketing methods and be skilled in inbound marketing.
A SaaS inbound marketing agency will show you how they implemented strategies into their business practices. The reports provide a better understanding of how their inbound marketing strategies will effectively market your software.
Examine their social media and blog posts to discern the agency's inbound marketing experience and skill. You will want to answer these questions:
Do they provide constant attention to their clients?
How active are they on their social media platforms?
How do they arrange their marketing methods to develop more leads and retain ongoing traffic flow to their website?
A thriving SaaS inbound marketing agency with experience working with SaaS platforms will assist you in improving the overall customer experience. Focusing upon customer support and developing persuasive content at the right time will help turn lead generation into sales.
Tip: Another great inbound marketing channel is affiliate marketing.
9. B2B Web Design Experts
Ideally, your website should be actively flipping leads into buyers. One thing you should be considering is a total website redesign. Designing SEO, content, and paid advertising efforts to funnel clients will become a waste without a complete website.
The appropriate B2B marketing agency will not only be able to redesign your website, but it will do so using growth-driven design (GDD). GDD is a practical approach that concentrates on the parts of your website that could use a facelift while maintaining the aspects working in your favor. You do not need to worry about losing any customers to them discovering your site is "under construction."
10. Tracking and Reporting Relevant Analytics
Any proficient digital marketer will advise you that the most straightforward rule of marketing is continually optimizing. To do so, you need to track and report the performance metrics relevant to your growth and ROI goals. It would also help attribute these metrics to the specific tactic or effort.
Most SaaS companies believe Customer Retention Cost (CRC) is the critical metric to measure.
Established top SaaS marketing companies provide access to software that tracks, reports, and analyzes the data most beneficial for your business's growth. They can also interpret and simplify these SaaS KPIs to satisfactorily understand the spending of your money and where you can see a return on your investment (ROI).
When you employ a SaaS marketing agency, it is savvy to set a service level agreement (SLA) that mandates periodic reporting on the agency's marketing endeavors. SLAs allow you to guarantee that the agency produces the plan you both arranged.
Advantages
Now that you know the top 10 reasons you should use a SaaS Marketing Agency, here are the main advantages.
The essential benefit of contracting with a marketing agency is that you function alongside professionals with expert SaaS marketing mastery. Granted, it is reasonably straightforward to earn an accredited online MBA in marketing these days. However, most entrepreneurs do not possess the credentials. So, operating with professionals that do only benefits you, as their knowledge helps facilitate the ins and outs of marketing.
Similarly, you pay for a whole team when you hire an agency. This means you have more hands-on-deck, ensuring your business can pump out more marketing material promoting your brand a lot more effectively.
High Success Rate
Marketing agencies have a proven track record of helping promote businesses. It is also true that they will work to generate leads with traffic to your site and everything in between. There is a basis for so many agencies popping up; they function with a more elevated success rate than you do on your own.
Disadvantages
All the talk about the advantages of SaaS Marketing would be disingenuous by withholding the disadvantages.
The blatant disadvantage is that it costs your business money. How much of an expense would require a cost analysis to compare hiring a marketing agency with installing an in-house marketing team. Beyond paying your marketing team, you will also need to pay for things like PPC adverts and any other strategies suggested.
Another possible unfavorable point is that you and the marketing agency may differ in your business vision and strategy. Naturally, as their customer, you should retain the final say. However, they may attempt to convince you that their idea is more practical. Most often, these discussions result in an agreed-upon solution. Other times these discussions can lead to conflict and stall the whole procedure.
Ideally, you would imagine a marketing agency will perform quickly. Unfortunately, you retain no power over the pace they complete tasks. Sure, you can assign deadlines, but there are no promises they will achieve them. You have no idea of workplace obstacles they might encounter. They may have a vital team member be off work for a week with an illness, hindering your progress.
The Bottom Line
As you can see, there are pros and cons to employing a marketing agency. In summary, it is typically a favorable action and a unified vision. The secret is accomplishing as much research as possible before chartering an enterprise. Ensure you discover one for the right price to fit your funding. However, it is equally important to finding one with a proven track record of developing a great marketing strategy. They must work with your vision, and the tactics are completed on time. Doing this will help you negate all the disadvantages, ultimately meaning you only see the advantages.
If success is your goal in the immensely competitive software as a service industry, you will need some help. Do not make the misstep of hiring a B2B marketing agency deficient in Saas experience. You will struggle to get the full results in your labor without a SaaS marketing company with an individualistic SaaS landscape understanding.
You developed your software as a solution for specific problem-solving. That is why you require a distinctive strategy for your SaaS marketing process. The expertise of a SaaS marketing agency will provide you with insight, experience, and strategic methods needed to make your experience here at Reditus even more successful. As a result, you can reduce your SaaS customer churn and boost your overall sales.