10 Steps to Drafting a Social Media Strategy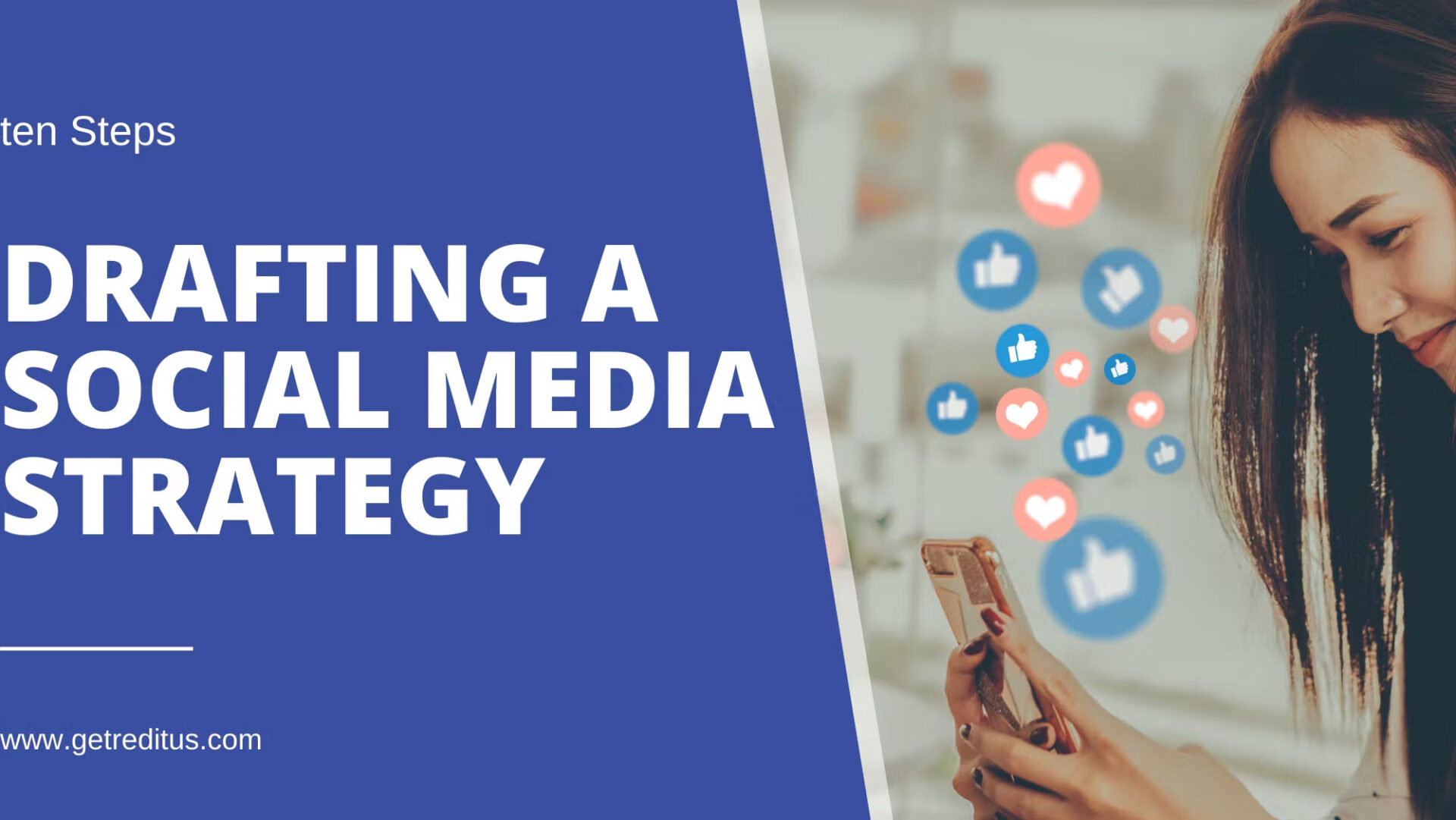 Contrary to popular opinion, social media should be a forethought in your marketing strategy. Maintaining a social media strategy is crucial to every company's marketing efforts. Given the popularity, wide usage, and ability to reach new and existing customers, social media utilization will help you obtain your goals and budgets for the years ahead.
Developing a strategy is essential to growing your brand through social media or advancing as a social media marketer. Therefore, it will help you understand your goals, your target audience, where you can reach them, and what they need.
Creating a solid plan is possible. Follow these ten essential steps to build a winning social media content strategy.
1. Know your Goals
Before launching into building any of your social media marketing, try to identify the most crucial objectives. Therefore you will want to determine which results you want to achieve with the help of your social media strategy.
Your purposes for social media could be to:
Boost brand awareness: Publicizing your brand also demands avoiding only publicizing promotional messages. It is vital to create more authentic and enduring brand awareness messages.
Expand your brand's audience: Obtaining new followers involves figuring out how to present your brand to people who have not heard of you before.
Increase traffic to your website: If you are determined to generate more leads or traffic, social media can help. Therefore traffic can be increased through promotional posts, social advertisements, or even influencer marketing.
Generate leads and sales: If you desire an ROI push from social media, you must introduce your product seamlessly. Here you will also present items into the experience.
Although you might try to achieve more than one of these goals, keeping your social media marketing strategy as simple as possible is essential.
Avoid complicating your message with too many objectives that may divert your attention, resources, and efforts.
2. Identify your Target Audience
As the name indicates, a social media target audience is a distinctive cluster of people you want to contact through social media. They are most likely curious about your content, products, or services.
To comprehend your target audience, you can begin with general categories and narrow key data points.
Here we will steer you through the approach:
Age: You will want to answer these questions
What are your targeted age groups?
Do you have a targeted specific age group? Or broad age group?
What makes these age groups tick?
Location: Knowing your audience's surroundings will prepare you to determine which geographic areas to target and which languages to utilize.
Time zone: Knowing where your audience is in the world will help you know when they are online. Therefore it will help you schedule your content and social ads to ensure visibility.
Interests include hobbies, brands they follow, and the people they interact with.
Buying habits: Develop an awareness of their earnings. Knowing how much they spend will help you understand what they can afford.
Answering these inquiries will assist you in comprehending what sort of individuals may already be following you. This insight will also give you a clue about who is most likely to be interested in your brand and content.
3. Research Competitors' Social Media
Knowing your competition is the subsequent step when framing a robust social plan.
Accomplishing n in-depth investigation of your competition will allow you to discover their strengths and weaknesses and how their efforts compare to yours.
Select what content performs for them: You will need to know which content works best and which content does not perform as well.
Do not just check the number of followers your competitors have on their social media.
Observe how their engagement levels are on social media.
Take note of which posts are driving likes, shares, or comments.
Therefore you will understand what their average engagement rate looks like.
Know their tactics: Are they working with influencers, running social media advertising, or investing in short-form videos. Hold an attentive eye on their strategy as it develops.
Determine the gaps: What are your rivals not doing or discussing? What has been overlooked from their social media approach? In what aspect do they forget how to serve their audiences?
No two brands' social media strategies are precisely the same. Determine what works for them and what conclusions you can draw to tailor your campaigns.
4. Choose the Proper Social Media Platform
When drafting your social media approach, an essential item to recognize is that various platforms attract specific audiences. Data on social media demographics can support in informing which networks your brand should use and what types of content to publish.
Some key takeaways to view are:
Youtube and Instagram are the most prevalent social networks used by Millennials and Generation Z. Therefore indicating the power of eye-catching content that exudes personality. Posting at the right time provides the best engagement.
Facebook and YouTube are exceptional places for ads because of their high-earning user bases.
Women outnumber men on Pinterest and have the loftiest average ranking value among social shoppers.
TikTok has the most Generation Z social media infiltration in the United States, with 47.4% of its active users between the ages of 10 and 29.
LinkedIn's users are well-educated and professional. Therefore, producing a destination for thought leadership and industry-specific content.
Allotting the time to do your due diligence on which social media platforms to target is essential. You should know which platforms to focus your energy on and where your target audience is already active.
5. Social Media Research and Listening
Social media listening is one of the marketers' most practical ways to understand how people perceive brands and trends. These tools help you retrieve essential information that can help inform your overall strategy on an ongoing basis.
Social listening requires you have tools such as Brandwatch, AgoraPulse, and Buzzsumo. Therefore you will need to know what you want to research. If you wish to understand what people say about your brand, competitors, or related aspects of your product or industry, these tools will help you find these answers.
Social listening will exhaust your time. It requires regular tracking and analysis to get the best results. However, there are some essential items you should consider:
Keep a rolling list of keywords in your niche.
What conversations are missing from outside of your current platforms?
Be prompt with responses. If you find negative comments or questions from your customers, be sure to take action and provide them with a quick response.
6. Create a Social Media Calendar
A social media calendar will help you plan an overview of your upcoming posts. Therefore, it will be a vital and visible addition to your social media content tool kit. You can organize these in the form of a spreadsheet, Google calendar, Trello board, or live within your social media scheduling tool.
Utilizing a social media content calendar permits you to create a plan that is both thought-through and well-considered, as well as to be reactive to the world events, trends, and customer insights you may want to address. However, you might be questioning how do you create a calendar that works for you?
Plan around the critical events in your marketing calendar, from product launches to sales.
Create and schedule content tied to your key content pillars: posting themes, concepts, or topics aligning with your brand on specific days of the week.
Create current and timely content worldwide and local events relevant to your customers.
Promote content from around the business, whether blog posts or videos.
Highlight user-generated content with customer-generated aids like reviews.
A social media calendar is an approach to keeping things flowing and organized. However, remember to be flexible. Whether establishing a unique product or preparing a massive social giveaway, your social media content calendar should align with your current and future business initiatives.
7. Select Social Media Management Tools
When you want to begin publishing content, remember there is much work involved in planning and scheduling your posts. You will need to analyze how your posts work and optimize their performance.
Fortunately, plenty of online tools will help you reach your social media marketing goals more efficiently and ensure your content reaches the right audience at the right time.
The availability of so many social media management tools available can become complicated. However, it is essential to remember the best one for you will depend on your social media goals and needs.
It would benefit if you decided on the required features for a social media tool used by your business. A brief exercise to assist you in distinguishing if you need or want specific tools is to create a list with a minimum of 10 reasons why you require a social media management tool in the first place.
Who is going to be utilizing the tool? How many users?
Do you want to track specific metrics? If so, which ones?
Which social networks will you use?
Do you need to schedule your posts?
Do you want a visual calendar of your schedule?
Do you need editor and reviewer access?
What about other user types/permissions?
Do you want social listening built-in?
What about competitor benchmarking?
How much are you willing to pay? And what can you live without?
No matter which tool you choose, the most vital objective is to discover one that is intuitive and simple to utilize. Therefore you will spend less time doing unwarranted tasks and nourish more time creating and posting great content.
8. Create Consistent Content
The solution to any social media content method is consistency. You improve brand recognition and credibility when your content is consistent across your social platforms. Therefore your audience becomes acquainted with your brand's voice and style.
As a result, your audience will become familiar with you and recognize your brand.
Consistency on social media includes the following:
Branding, logo, and color palette
Posting frequency (see step #8 for more)
Ad campaigns
The tone of voice used in messaging and replies
The voice's tone is an unnoticed element crucial to creating genuine engagement with your audience. Responding consistently to comments on your social media will help you gain respect as a brand. Therefore, being present and engaging your audience in a friendly and personal manner will have them returning.
9. Invest in Social Media Video
A social video is typically short-form content explicitly crafted to drive engagement reactions and captivate viewers.
If you have not thought about including videos in your social strategy but want to boost your online presence, it is time to start producing video content. A few of the many advantages of using this format include:
1. Video brings more exposure and engagement: Research shows people are ten times more potential to interact with a video than with a text block. People enjoy watching videos to learn about a product. Some watch them for entertainment. If you want to capitalize on their popularity, social media video is a fantastic strategy.
2. Video content is the preference across all social media platforms: From Facebook, Instagram, and LinkedIn to TikTok, there is an abundance of styles of videos you can build for your social profiles:
Informational
Tutorials
User-Generated
Live video streams
3. Viral video content can be short: The most popular viral videos on youtube tend to last less than 1 minute. However, this timeframe does not leave much room to cover topics in-depth. There is just enough time to tell a single story quickly or share a vital highlight, whether informative or entertaining.
Users require brands to provide engaging and entertaining content on social media. Videos are one of the most effective formats for delivering an exciting and delightful experience.
10. Track Performance and Update Approach Regularly
Your top priority is studying and identifying what works and what doesn't. Technically, the better you track, the additional insights you can acquire. Therefore, you should monitor your content's performance on all your social networks.
Decide how you will track your performance. A social media management tool is essential in saving you time.
Do not undervalue the power of designating key performance indicators (KPIs) in your social media marketing. These indicators can help you know if you're going in the right direction and whether your efforts are making an impact.
Following the latest social media trends is also practical when evaluating and updating your content strategy. For example, in 2022, more brands are integrating social commerce into their marketing strategies. The trend is also to showcase social awareness across their accounts.
The Bottom Line
The above 10 steps will help you draft your first of many social media strategies. As a result, you will be well on your way to a successful social media marketing plan. Therefore you did not need to enter the pitfalls many of us have fallen into in the past.
Creating a social media strategy is tricky because, like with all strategies, it requires taking a step back and observing the bigger picture. Developing your plan requires work beyond the mundane day-to-day tasks to maximize all of your resources.
No matter your brand's size, take the time to develop your plan thoroughly. Only then will you be able to be in a position where you're not simply posting content for publishing but working towards your social media goals.