The Ultimate Guide to SaaS Podcasts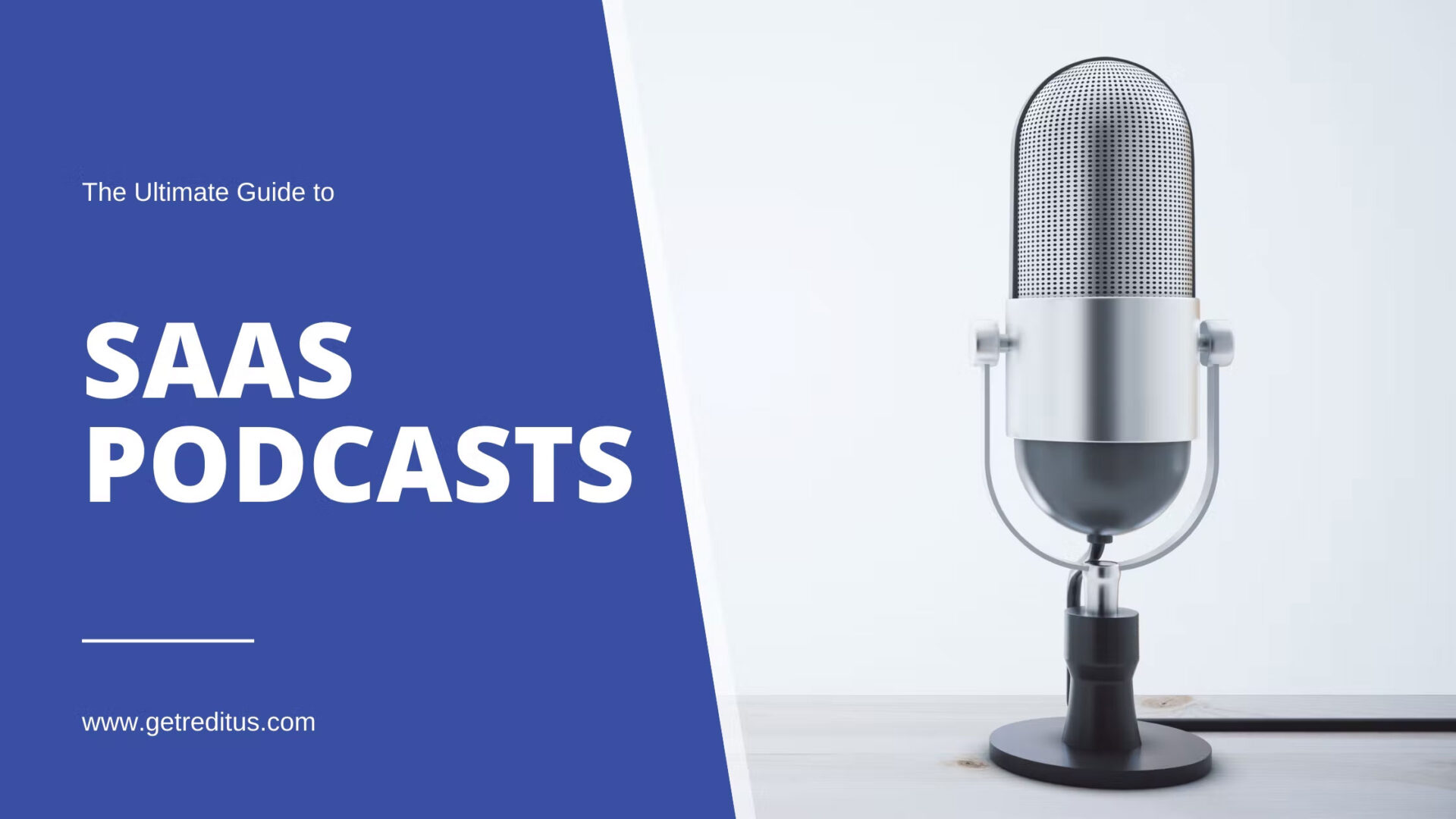 Podcasts are a great way to learn about a specific topic while running, working, walking the dog, or doing other activities. When you want to learn more about SaaS, we have created the perfect list. See below our definitive guide to SaaS Podcasts in 2023.
SaaS (Software as a Service) has one of the highest growth rates in the startup world. To have a clear picture, when we talk about SaaS, we talk about companies like Hubspot, Salesforce, Dropbox, Spotify, and many other solutions we have in the market.
As things are constantly changing in the SaaS space you might ask yourself, "where do those guys get the juicy content? Where do they stay updated with the fast pacing market we live in?"
So I have stopped and realized that we have many options right now. The podcast has been one of the mediums that startups and entrepreneurs are deploying an insane amount of content.
Thinking about this, I decided to develop the definitive guide of SaaS Podcasts in 2023.
Let us get to it!
SaaS Podcasts
1. Grow Your B2B SaaS Podcast
The founder of Reditus, a bootstrapped B2B SaaS, is interviewing industry experts on how to grow a B2B SaaS. As the host also has challenges & experience, he will ask the questions you wanted to ask. The show is recorded in seasons of 20 episodes, and they offer a summary episode where you receive the advice of 20 industry experts in one episode. See below the summary episode of season one:
2. SaaS Breakthrough
The SaaS Breakthrough Show provides an inside look at what is working in SaaS marketing for companies. The guests share today's experiences from marketers in the trenches, experimenting daily to grow their MRR and build unique businesses. Demio produces the SaaS Breakthrough show. Demio is an easy-to-use, reliable webinar software created to help marketing teams. You can effectively scale their efforts in less time than ever before.
3. The SaaS Podcast | SaaS, Startups, Growth Hacking & Entrepreneurship 
The SaaS Podcast, started in 2014, is one of the oldest SaaS podcasts. Omer Khan provides high-quality content for entrepreneurs and companies. If you want to grow your business, this podcast is a must. Each week they interview industry experts and proven startup founders. These experts share their business, product, and marketing strategies and insights to help you build and grow your SaaS product and company.
4. The Official Saastr Podcast | SaaS | Founders | Investors
SaaStr produces the Official Saastr Podcast. The podcast interviews the most well-known operators and investors to discover their tips, tactics, and techniques to obtain success in the fiercely competitive world of SaaS. Hosted by Ashu Garg.
5. Startups For the Rest of Us
The longest-running and most popular podcast developed for bootstrapped and mostly bootstrapped startups. The show follows the stories of SaaS Company founders. They discuss their stories of startups and growth as SaaS companies. You can learn about the failures, struggles, and success as they take you through the tumultuous life of a SaaS founder. If you like This Week in Startups, Mixergy, or SaaStr, you will enjoy Startup for the Rest of Us.
6. Build Your SaaS | Bootstrapping in 2023
Can you bootstrap a profitable startup in 2023? Countless entrepreneurs, developers, designers, and product developers have tried to launch their web apps. However, with so many venture-backed startups now, can you still be successful? Follow Jon and Justin's podcast as they build their SaaS.
7. The Growth Hub Podcast
If there is one podcast for B2B SaaS Marketing, it is The Growth Hub Podcast! High-quality content is produced for SaaS marketers, CEOs, and founders. You need to check-in if you want to level up your knowledge, skills, and wisdom on building a high-growth SaaS business. The host provides some of the top minds in SaaS worldwide. They provide strategic frameworks, actionable insights, and inspiring tales to gain their insights and advice on growth. Edward Ford of Advance B2B hosts this show.
8. SaaS Growth Stacking | with Dan Martell
Dan Martell is a serial entrepreneur and angel investor from Canada. Tune into this podcast each week, and Dan Martell will teach you: "How to hack your productivity, focus your marketing efforts, get your big dreams funded, and build, scale and sell your technology company" without giving control to investors and financial stakeholders.

9. The SaaS Revolution Show
Alex Theuma hosts the SaaS Revolution Show. He brings you insights and tactics from the greatest SaaS minds worldwide. His guests candidly disseminate knowledge on enticing and retaining customers. Growing companies in unlikely places and global scaling are some common themes. Most importantly, they want you never to give up.
The SaaS Revolution Show is carried to you by SaaStock. They provide a media-only membership and events business focused on SaaS founders scaling to $10mill ARR.
10. SaaS Interviews with CEOs, Startups, Founders
What if you knew the data behind the fastest-growing SaaS companies today? Each morning Nathan Latka provides 15 minutes of discussions interviewing SaaS founders. You will learn how SaaS CEOs launched their startup and grew it into a real SaaS business. SaaS segments range from bootstrapped to funded, MVP to 10,000 customers, pre-revenue to pre IPO.
11. SaaS Sessions
SaaS Sessions Podcast is India's first SaaS-focused podcast. Take a deep dive into SaaS with the industry experts. Sunil Neurgoanka is the host and he has had several leaders (C-level/VPs/Directors) on shis show from SaaS companies like Github, Segment, G2, MoEngage, and more.
12. SaaS Half Full
Creating a successful SaaS marketing strategy is like mixing the perfect cocktail. What are the right ingredients? How do you mix it all to ensure people order another round? The show serves B2B SaaS Marketers with host/bartender Lindsey Groepper on SaaS Half Full. Share a cocktail with top marketing leaders who have crafted unique strategies for success.
13. SaaS Open Mic by ChartMogul
SaaS founders and innovators share their stories! ChartMogul's SaaS Open Mic podcast provides a discussion with the most inspiring innovators behind high-growth subscription businesses, identifying critical components of their success. ChartMogul helps thousands of companies use data to understand their customers and reach sustainable growth.
14. The SaaS Venture
Darren Shaw of Whitespark Aaron Weiche of GatherUp shares their experiences in the SaaS Venture. Tune in as they help you lead and grow bootstrapped SaaS companies through their experiences, challenges, wins, and losses h. In this current world of 'unicorn,' VC-funded software companies, Darren and Aaron discuss the growing SaaS sector we operate in and share insights and experiences.
15. Confessions Of A B2B Marketer
Why do some B2B SaaS or agencies seem to grow while others struggle to find customers/clients? Moreover, listen to these confessions of SaaS Marketers growing their companies. Learn what they are doing differently to attract a wealth of clients and customers
The podcast aims to answer these questions as you follow Tom Hunt. He discusses his journey to grow a B2B SaaS business and agency. You get to meet his friends, family, and business associates along the way.
16. SaaS District
Discover how to optimize your growth strategy for your SaaS startup from beta all the way to exit. We cover investing, acquisitions, leadership, B2B sales, growth marketing, scaling, hiring, conversion optimization, productivity, bootstrapping, venture capital, private equity, and innovation. By sharing industry lead expertise, we were hoping you could implement the best-proven tactics to help you scale your SaaS company.

Set up an affiliate program to grow your SaaS
17. SaaS Startup Stories With Scott Dudley
SaaS Startup Stories is for SaaS founders interested in discovering how other SaaS companies got off the ground initially and how they have managed to grow the business since. This podcast provides valuable insights into how a successful SaaS business is run and what mistakes to avoid. Please sit back and enjoy the podcast as they interview SaaS founders and experts to discover what works and what does not.
18. SaaS Backwards - Reverse Engineering SaaS Success
Here you will listen to interviews with CEOs and CMOs of fast-growing SaaS firms. These experts reveal what is working and lessons learned from things that did not go as planned. These deep conversations focus on the pragmatic and strategic, providing a well-rounded diet for those running SaaS firms today. Ken Lempit, Austin Lawrence Group's president and chief business builder, moderated these podcasts. Ken has 30+ years of experience assisting software companies' growth and achieving their visions.
19. SaaS Sales Players
Interviews with the SaaS industry's top-performing sellers occur on this podcast. SaaS Sales Players break down the mindset, habits, and processes used by software's most successful producers to crush quota and make a bank.
20. Sour & SaaS
Here they break down the real SaaS marketing problems. The podcast provides a sour twist to the SaaS industry. Garrett Mehrguth interviews SaaS worldwide marketing leaders. At the same time, they are challenged to get their words out, puckering with sour candy they consume throughout their conversation.
21. Better Done Than Perfect
The Better Done Than Perfect podcast is a place for SaaS founders and product developers. They discuss user onboarding with fellow founders and guest experts in the first season. You can hear topics varying from content strategy to SaaS positioning.
22. Scaling SaaS Operations
Kristine Esparza is spirited about converting companies by scaling procedures. She reveals the best processes, tips, and practice tools to apply to your startup SaaS. Here you can discover how experts automate, develop efficiencies and align their internal teams to create an optimistic and consistorial entrepreneur and angel investor customer experience. It is a mix of interviews with SaaS founders and other industry experts and solo shows from Kristine you will not want to miss.

23. SaaS it Up
Osker and Saswat speak with VCs, startups, and SaaS partners. Their discussions unravel a unique story. You learn about their choices which end up shaping their worldview. SaaS it Up is a podcast launched by experts in the SaaS Space and active in the startup ecosystems of Munich and Bangalore.
24. Bootstrapping Saas
Val Sopi is the founder and sole maker of Claritask.com. The host will detail strategies, tactics, lessons, and successes in marketing, sales, and outreach in this weekly show.
25. Built to Scale | B2B SaaS Edition
Built to Scale was built by Mitch Fanning. He is an experienced early-stage tech executive with 15+ years of product and marketing experience. Listen to his complex experience scaling B2B SaaS companies from $1M to $10M and beyond. The Built to Scale podcast is dedicated to this journey.
26. SaaSy as F**k
Sit down and listen to the SaaSy as F**K podcast. The creative discussion with experts from all over the SaaS industry explores how their journey got them today. The guests share their failures, successes, and everything in between. The podcast is well crafted by the very talented Alex Radford and hosted by the less capable Jon McGreevy. SaaSy as F**k strives to assist anyone who wants to work in SaaS or already does.
27. SaaS Marketing Bites 
SaaS Marketing Bites provides the best B2B SaaS insights shared by their growth experts. Each week, they publish a new episode on landing page design, PPC marketing, SEO, CRO, marketing automation, and growth strategy.
28. SaaSOps Leaders With David Politis
SaaSOps Leaders with David Politis is a relatively new show about the constantly evolving landscape of SaaS and SaaS management. BetterCloud's CEO David Politis discusses how influential IT executives grew their careers. They examine how SaaS applications have transformed their organizations and what it all means for the future.
29. Best in SaaS
Elias provides an introspective look at the SaaS industry. You can listen to them discuss how to work towards breaking the go-to-market sprint and landing into unicorn status. In these consultations, you can anticipate hearing B2B practices and playbooks from some of the industry's best revenue operators and investors.
30. Masters of SaaS
In each episode, the podcasters chat with SaaS entrepreneurs and experts in the field about what got them to where they are today. The discussion includes all the doubts, fears, and trade-offs you go through in establishing a SaaS brand. They help you understand what to expect. Relevant topics provide valuable advice on everything from designing your platform to increasing customer retention and all that's in-between. They discuss actionable tactics and tips you can start applying to your own SaaS business right away.
31. SaaS Growth Marketers Podcast
The FIRST podcast for the Marketing Leader of GROWTH-STAGE SaaS businesses. This podcast is for those who want to be inspired by blunt, controversial, and entertaining content. Here you will hear 'unfiltered' insights that will make you excel in your career. No 'BS' bingo. No feather beds. Leaders were speaking up. Leaders admit where they have failed and the process of learning. Profiled guests' courage is highlighted as they enter the ring with an unconventional host - Frank Buckler - Founder of SaaSconversion.io

32. How To SaaS
Have you ever wondered what other SaaS companies have successfully implemented to grow their business? What marketing channels are they using? Welcome to the podcast How To SaaS, the go-to podcast for growing your cloud software company. Each week they interview founders, CEOs, and growth leaders who have successfully implemented a growth strategy. They are here to help you take your cloud software company to the next level.
33. SaaS Marketing Insights 
SaaS Marketing Insights provides interviews with SaaS founders, CEOs, marketers, and investors about their lessons in their quest to grow their companies. Paul Stephenson, Founder & CEO of SaaS marketing agency 47 Insights, hosts the podcast.
34. Notion Capital 
Notion creates the conditions for extraordinary success and invests across Europe in enterprise technology founders. The podcast offer guidance and resources to our portfolio and the broader enterprise tech ecosystem on their startup, grow-up, scale-up journeys. Stephen Millard and Paul Papadimitriou host the show.
The Bottom Line
If you want to be the best in the SaaS field, you need to listen to the brightest minds in the field. How people communicate today is through podcasts. So when you want to know what is working right now. The best way to find this information is by tuning into these niche podcasts.
Looking to grow your SaaS? Set up an Affiliate Program.