What is Affiliate Disclosure, and Why Do Your Affiliates Need One?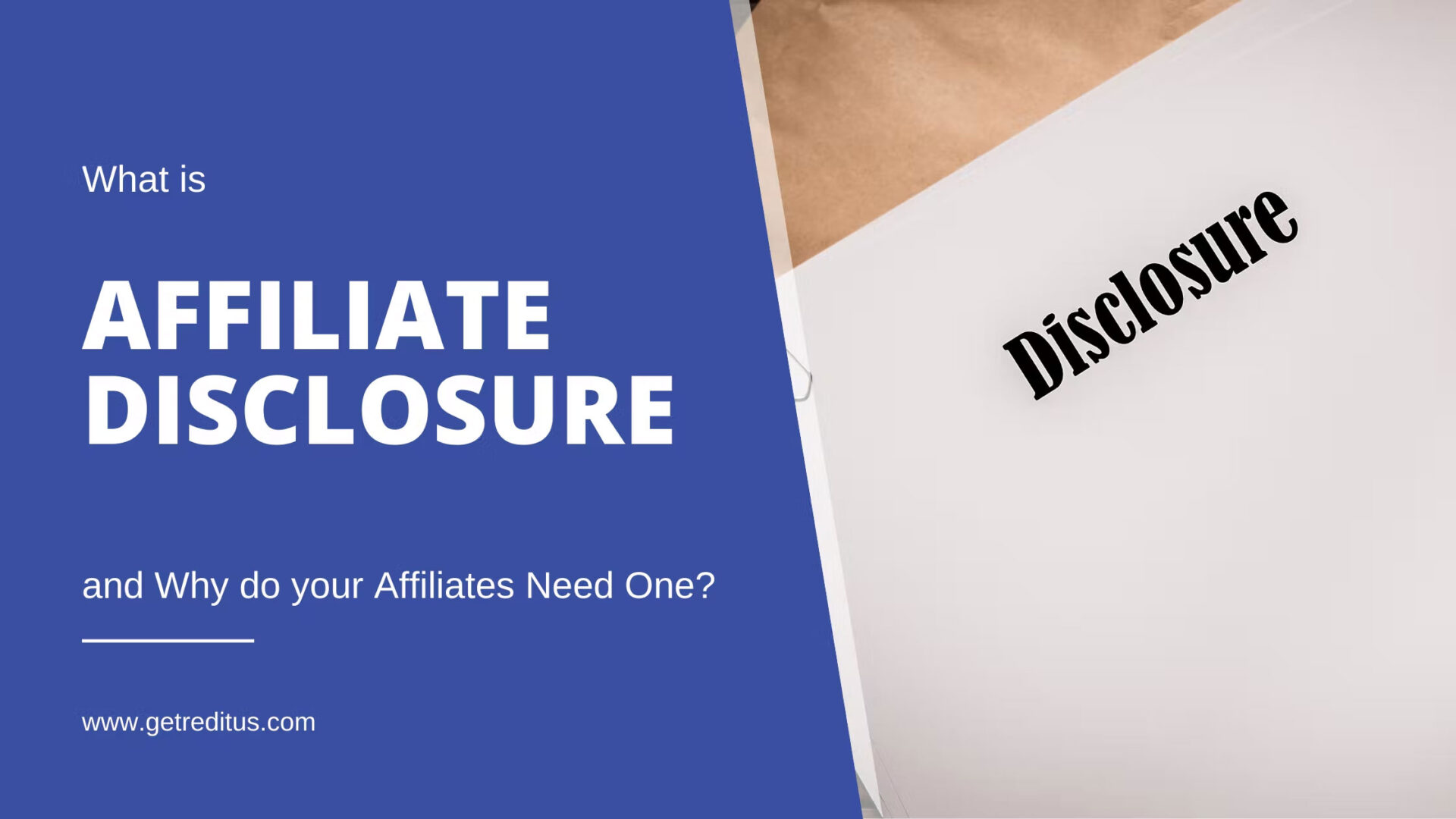 If you are a brand working with affiliates to grow your sales, you must make sure they publish affiliate disclosures alongside their affiliate content.
Eight out of every ten consumers purchased something after seeing a recommendation from an influencer. Word-of-mouth marketing is essential for your business to thrive. Affiliate marketing and sponsorships are among the top-performing strategies to drive word-of-mouth marketing.
However, affiliate marketing comes with its risks too.
Enter the FTC act and its emphasis on fair competition and honest advertising practices. The prevalence of affiliate marketing among brands and its sheer influence among consumers has prompted the Federal Trade Commission (FTC) to publish endorsement guidelines for merchants and publishers.
According to these guidelines, a social media influencer should disclose any affiliate relationship between them and a brand to consumers. In other words, a clear affiliate disclosure should get published alongside affiliate content. Therefore this is to ensure that consumers are aware that a publisher's endorsements could be for the sake of compensation by the brand.
What is an Affiliate Disclosure?
Affiliate disclosure is a statement that clarifies an affiliate relationship between a publisher and a brand. Therefore, this can be a relationship where the affiliates receive anything in return for their endorsements, such as a commission, free items, flat fee, sponsorship, or other non-monetary value.
An affiliate disclosure is a necessary legal disclaimer for brands that promote their products via third-party affiliate partners. It clarifies that the third party receives compensation for the sales made through the partnership.
An affiliate disclosure is mandatory because it ensures that the consumer knows if the publisher, or third party, gets sponsored or is partnered with a company, meaning two parties are in a paid relationship.
Why is an Affiliate Disclosure Mandatory for your Affiliates' Websites?
In 2009, the Federal Trade Commission (FTC) started publishing a set of Endorsement Guidelines addressing the legal obligations of merchants involved in affiliate marketing and their affiliates. The FTC will consider failing to disclose an affiliate relationship unfair competition, or deceptive trade practice under the FTC Act, and the parties involved in such training can face liability.
In other words, forming an affiliate partnership is illegal without displaying a proper affiliate disclosure.
Suppose an affiliate fails to make appropriate disclosure. In that case, the affiliate can face liability under the FTC Act, but the company selling the relevant product or service can also face a penalty.
So if you're relying on affiliates to promote your products or services, your affiliates' failure to comply with legal requirements and unfair advertising practices can pose a liability risk for you, aside from the heavy blow to your brand perception.
It's not that FTC conducts regular checks to detect affiliate disclosure violations. Still, the agency clearly states that significant resources get allocated to pursuing enforcement actions against companies and affiliates engaging in illegal partnerships via fines and other penalties.
You have to make sure your affiliates are displaying adequate affiliate disclosure.
Additionally, for the affiliates, it helps their audience understand that the affiliate will receive money if they click on the link. It helps to build trust with their audience and is good business practice for the companion.
How to Ensure Your Affiliates Include an Affiliate Disclosure on their Site?
Explain precisely what they need to do to ensure the disclosure is placed correctly on affiliates' websites. Not all your marketing partners will have the legal background to prepare a proper disclaimer, so create a copy to make it easier to comply.
Include a copy in your partnership program's terms and conditions that explains what affiliates should do. Ideally, you should have a landing page dedicated to the program's policies, like Amazon's Associate's Program Operating Agreement, where you lay out the terms and conditions and include conditions for affiliate link disclosure.
Notice how concisely the portrayed information allows no room for misunderstanding or confusion.
Assuming you have a dialogue with your affiliates, mention the disclosure to communicate the importance of compliance. The message of compliance does not need to be in every message. If you've already built your community of affiliate partners, make sure there's a pinned post or statement in your online community software clarifying both parties' legal obligations.
Additionally, you could create an endorsement guide with instructions on a separate page, including how to promote your brand. This document should include disclosure guidelines on where to have the disclosure placement and any other essential aspects to know about promoting your brand.
A certain level of transparency in business relationships is a basic rule of business etiquette, and doing otherwise is bad publicity.
Even though the responsibility lies with the affiliates to add a disclosure to their site, the process requires monitoring and training. Please provide them with information about your products and related regulations and liabilities you may both face in case they disregard the rules.
First, clearly define the marketing language's limits—what they can and can't say about your products. Please give them a little sense of your brand and its tone of voice, and request them to comply with your brand guidelines.
Make a list of the phrases and the kind of message they should avoid. Creating onboarding webinars for your new affiliates is always a good idea.
Equally important is monitoring if they follow your requests. Check your network regularly to detect violations, and contact them if they don't comply. If they insist on their deceptive behavior, you have the right to remove them from your program.
How to Write an Affiliate Disclosure
What should an affiliate disclosure look like? Although regulations vary for different types of products, like how cosmetics and clothing require different levels of inspection, there are some rules and guidelines that hold for every affiliate relationship.
What to Include in an Affiliate Disclosure?
The FTC states that "the guiding principle is that it has to be clear." In other words, it must be as clear as day to anyone who sees the disclosure that the affiliate gets paid. Refrain from vague language or technical jargon that may confuse some viewers.
For instance, if you display one that says, "There are affiliate links in this article, please check out our disclosure policy for further details," people who don't know what affiliate marketing is might not be able to understand the nature of that relationship.
Some of your affiliates might prefer showing their personality in the disclosure. If you think their version meets your guidelines, you can allow them to do so. Like this example:
If your network receives an upfront compensation from you for, let's say, increasing exposure to your brand, make sure they disclose that information as well.
An appropriate disclaimer, in that case, would include, "I got compensated for this post. There are links in this post, and I'll receive further payments if you make purchases via those links. Therefore this has no cost for you."
Where to Place the Affiliate Disclosure?
The FTC guidelines also define how and where your partners should use the disclaimer. General disclosure links in the header, sidebar, or navigation don't qualify as proper disclaimers.
The disclosure must appear close to the affiliate link, and people viewing the page don't have to look for it. So when a partner links to one of your products from a blog post, for instance, the disclaimer must be visible to visitors when they land on the page.
Doing this will also ensure it appears before the first occurrence of an affiliate link, which is an FTC requirement.
Keep in mind that the visibility requirements apply to all types of devices. Therefore, you must test widgets where you'll place the disclaimer across device types to ensure it's visible everywhere.
Notice how Bon Appetit changes shape and positioning to increase visibility across device types, including mobile devices. The desktop font would be inconspicuous if used in the mobile view. You need to make sure your website has an optimized mobile design.
Of course, it's not reasonable or feasible to test for all device types. Yet most of your audience must be able to see it, according to the FTC.
Look at your traffic data to determine which types bring in the most traffic, and make sure you're covering them. If your affiliates use popular content management systems or eCommerce software for their websites, they should not have any issues.
Affiliate Disclosure for Social Media Posts
FTC's disclosure requirements apply to your social media content too. Suppose you're working with influencers, industry experts, or other third parties that help you promote your products on social channels. In that case, you must make sure they're disclosing the relationship in line with FTC guidelines. How can your affiliates do this?
The FTC says that the disclosure must appear at the beginning of an ad when using social channels to promote your product or service. When it comes to video and audio content, like video series, webinars, and podcasts, your affiliate must place the disclosure at the beginning of the content itself, that is, within the content, not in the form of written text alongside it.
How your Affiliates can Add an Affiliate Disclosure to their Site?
One way to ensure your affiliates will add affiliate disclosures to their websites is by automatically introducing simple tools that can do this for them. Here are some of the tools you can recommend to your affiliates:
The tool allows you to show the disclosure statement at the beginning of the end of a post. You can customize statement content and add links, images, and HTML elements. The tool displays the disclosure only on the pages that you determine.
FTMC Affiliate Disclosure is a WordPress plugin that allows you to add an FTC-compliant disclosure statement at the beginning of all posts.
WP AutoTerms is a plugin that helps you comply with various legal requirements. However, this does include CCPA or the GDPR law or Amazon Associates' need to have a disclosure for affiliate links.
Get Your Affiliate Disclosure Organized Today
Affiliate marketing and sponsorships are areas that could easily skew towards deception. Influencers' irresponsible endorsement of low-quality products and services could get consumers to purchase those products. But eventually, consumers feel taken advantage.
Under the FTC Act, publishers should disclose any partnerships with the brands they work. The statements that clarify such partnerships are called affiliate disclosures.
As a brand working with partners to promote your products, you must educate them about the importance of affiliate disclosures. Failing to publish such disclosure is against the law and could get you and your partners in trouble. These are some suggestions for your affiliate partners to post an affiliate disclosure in their content.
Be clear about what they can and can't say about your products.
Explain their responsibility to disclose the relationship.
Clearly state their commitment in your affiliate program's terms and conditions or knowledge base.
Communicate it in your monthly newsletter for affiliates.
If you have a community for your audience, include it in a pinned post.
Look at what your affiliates are saying about your brand by monitoring mentions and hashtags related to your brand.
If they do not comply, contact them and ask them to add it directly. You can remove the offending affiliate from your program if that does not work.
The Bottom Line
The affiliate disclosure is in the best interest of all parties. When affiliate partners utilize an affiliate disclosure, they protect themselves, customers, and your product. Therefore, they are not only staying legally compliant but also increasing their authority with their audience.
If you are interested in learning more about our SaaS Affiliate marketplace, click on Reditus.